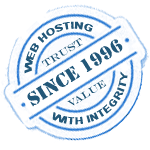 VIRTBIZ began providing top-quality business class web hosting service since 1996. In that time, we have learned that our customers place a strong value on bang for the buck and customer service.  When you want solid hosting from people who care, you don't want a daddy or a gator.   See what makes us better, then settle for nothing less than VIRTBIZ!
We feature premium web hosting with popular control panels (cpanels) such as BlueOnyx and cPanel. This makes it easy for you to control all aspects of your hosting.

The BlueOnyx control panel provides a simplified, easy-to-use web interface to control all aspects of your web hosting, email, FTP and DNS services.  BlueOnyx traces back to the original Cobalt RaQ server appliances.  BlueOnyx now powers nearly 30,000 host systems worldwide.   As the home data center of BlueOnyx, nobody knows BlueOnyx web hosting better than VIRTBIZ.
Choose BlueOnyx web hosting – starting around $6.00 / month!

Geared towards advanced users, cPanel powers more websites than any other control panel.  cPanel provides a graphical interface and tools designed to simplify the process of hosting a web site.  In addition, the Softaculous Auto Installer that allows website administrators the ability to install their choice of hundreds of apps with a few clicks. WordPress, for example.
Best Servers, Best Support.
You've tried the big box hosts and the one man shops. The story is often the same. Either you can't get the hosting company to give you the time of day, or your guy with a server can't be found.
We put a change to all that. Our web hosting operation is big enough to offer true stability. But we're also small enough to care about you as a customer.
It's really quite simple. We think every customer should have the best kind of support around and that's the reason we do what we do. When you are ready to be treated as a priority, you are ready to choose VIRTBIZ. We will be here for you when you need us.
All of our servers are state-of-the-art, multi-core systems backed up by all the high-availability amenities of our wholly-owned data center. What's more, technical assistance is always available via our 24 hour ticket-based support center. When it comes time to give us a call, your call will be picked up by our on-site, USA-based staff.
We Make Life Easy.
When you sign up with us, you get instant access to your account. Our online portal is where you manage your account and access our dedicated support team. You can reset your password, access payment options, add or upgrade services and reach out for help.
Web pros can use your favorite web editor like Dreamweaver, GoLive or CoffeeCup. Or take advantage of dozens of free scripts that we provide to build a website with a photo gallery, forum or shopping cart for instance.
Furthermore, if you're not sure where to begin, look to us to provide professional web design and maintenance service as a value-add.
One of the benefits of having VIRTBIZ at your service is that we're always available to discuss your special needs and tailor a package together especially for you. We provide boutique hosting for warehouse prices.  Call or e-mail us today with your special requests!
What makes VIRTBIZ better:
VIRTBIZ maintains coveted A+ Accreditation from the BBB.
Five-Star Rating from independent reviewer WebHostingStuff.com.
VIRTBIZ has received the CompareWebhosts Guarantee.
The most popular control panels, including BlueOnyx & cPanel.
We own the servers, the software, and the datacenter facility. We're not merely reselling some service that we don't really control.
We operate only high-end servers, not overloaded old hulks.  Don't trust your website to the cheapest old junk.
Our bandwidth is the best in the business.  We don't just use whatever is cheapest.  That means your website runs faster!
Our staff is 100% USA-based, not off-shore.  We have the best support in the business.
We have been in business since 1978, and professional hosting since 1996.
We're big enough to do it all, small enough to care.
In conclusion, when it's time for you to choose a new web host, we hope you'll agree that VIRTBIZ is worth your consideration. Our combination of service, performance, reliability and price set us apart. Why not give us a try today?