Dallas Datacenter with STRENGTH
The first thing you should know about our Dallas datacenter facility is that it is hardened and very strong.  In fact, we were recently put to the test when an impaired driver crashed into our DAL1 building at an approximate 45-degree angle.  The incident was captured on one of our outdoor security cameras. The video of the incident is on the left, while on the right is a picture of the area the vehicle struck.  As you can see from the picture, there was no damage to the building, even though it was struck at a relatively high rate of speed.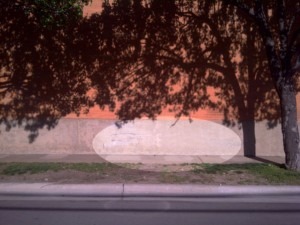 The only evidence left the next morning was paint that had scraped off of the car.
Our DAL1 Dallas colocation datacenter was originally constructed in 1953 and features solid masonry walls 14 inches thick, a 3 foot elevation from ground level, and a newly upgraded weather-resistant roofing system designed to handle the worst weather conditions likely to occur in our region.
Dallas Datacenter with PERFORMANCE
VIRTBIZ is built for speed. We utilize industry-leading routing protocols connected to premium carriers such as AboveNet / Zayo, Level3 / tw-telecom, AT&T, Cogent Communications, Time Warner Fiber and FPL Fibernet to ensure your data has the maximum performance available.
Our network is 100% Cisco-powered and we have cross-connects at the largest peering points & carrier hotels.  Our core is capable of processing aggregate traffic in excess of 192Gbps.  Multiple levels of redundancy and an ample supply of on-site spares help to ensure your data remains online, all the time.
We offer the benefit of an extensive metro-area fiber network.  With 6 separate service entrances and a multitude of available carriers, our customers can be assured that they are provided with the best possible Internet connectivity.
In addition, VIRTBIZ maintains high-performance wireless backhaul links on multiple frequencies.  These ultra-low-latency systems provide additional datapaths to add to our performance and fault-tolerance.  This is a Dallas datacenter exclusive, made possible by our extensive background in wireless communications.  We are unaware of any Dallas colocation or hosting facility with this capability.
Customers who require custom connections or dedicated circuits have the convenience of being able to deal directly with the service provider of their choice.   Our facility boasts high capacity unlit (dark) fiber as well as copper-based circuits so that customers can negotiate their best pricing directly with the carrier of their choice.
Dallas Datacenter with RELIABILITY
Electricity is supplied to VIRTBIZ DAL1 via two independent electrical service entrances to allow for true A/B power.   Electricity is provided via both the Dallas CBD and the Baylor Hospital grids.   In addition, the entire datacenter is connected to UPS backup with an automatic transfer switch to start and connect our Caterpillar diesel generator.  We store enough fuel onsite for 24 hours of generator service, and maintain a safety refueling period of 6 hours.
Environmental controls (cooling) are supplied by N+1 glycol-cooled and air-cooled CRAC systems with N+1 CRAC chillers / dry coolers maintaining 40-50% controlled humidity under ASHRAE recommended guidelines.
Dallas Datacenter with SUPPORT
Our Dallas-based Support Team handles all support requests exclusively from our Network Operations Center (NOC).  To ensure maximum availability, the NOC is strategically placed in the center of the building and benefits from the same highly-redundant power and network design as the datacenter.  In the event of severe weather or prolonged power-failure, the NOC, along with the datacenter, remains well-insulated from external conditions and is capable of indefinite operations even in the absence of utility service.

Whether it's assistance with making sure your website and email are always available, optimizing our network performance or managing facility operations in a large-scale emergency, the VIRTBIZ Dallas datacenter & colocation facility stands ready for the challenge.
---
Weather Conditions at the DAL1 Datacenter