Step 1:  Download the Installer DVD .iso
Step 2:  Boot with the Installer DVD
Attach your the DVD you have burned from the ISO image.
– or –
Attach your ISO image directly.
The server will boot to the BlueOnyx installation options.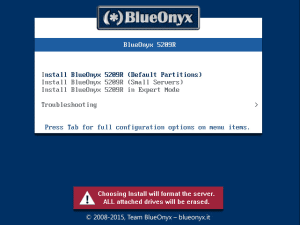 Step 3:  Select your installation preference
BlueOnyx will automatically partition and format your hard drives.
The recommended procedure that most users should choose is "Default Partitions".

WARNING: all data will be erased from the server that you are installing to.

Hit "Enter" when you have selected the option you wish to choose.
BlueOnyx will now proceed with the installation.  Sit back and relax.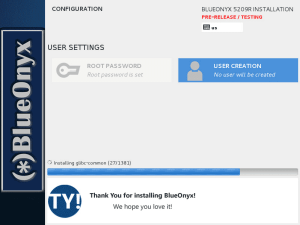 Step 4:  Reboot when prompted
Step 5:  Log in with default credentials, as displayed on screen
BlueOnyx will walk you through a series of questions.  You should know your

IP address
Subnet mask
Gateway
DNS Server

When you have completed those, the system will prompt for a YUM update.  If you are connected to the Internet, select "Yes".
Step 6:  Complete setup via web GUI
The GUI will be available at your IP address on port 444

Step 7: