You're here because you want to know more about the history of VIRTBIZ, right? You've come to the right place.
Our Name:

OK, we admit it. Our name is strange. We first called ourselves Virtual Business Solutions, but that took too long to answer the phone. We tried to abbreviate the name into the initials VBS. However, we were too easily confused with "vacation bible school" and got the wrong kind of phone calls. Our solution was to combine two words that are somewhat bulky and cumbersome (Virtual + Business) into one neat little fun to say package. VIRT. BIZ. VIRTBIZ! (See, that was fun, wasn't it?)
What we do:
We offer Internet services such as web design & development, virtual– & dedicated-server hosting, and collocation from our Dallas datacenter. Our industry-leading low prices and absolute dedication to superior service should make us your first choice to satisfy your Internet needs. We will always strive to provide you with better service. Moreover, we usually do it for less money than our competition. How can you beat that?
Some very high-profile customers call us "home" for their Internet services. We hope that you will consider calling on us for your needs, as well!
Our People:
The history of VIRTBIZ really starts and ends with our people. We are extremely proud of our 100% USA-based staff. Most of our team is on-site at our 10,000 square-foot Dallas facility.
Our staff of experts and certified professionals can help you find the right cloud service for your project, or create a customized collocation package, ala carte or turn-key. In addition, we can even help build and design your website, if that's what you need. VIRTBIZ has the experience, knowledge, and equipment to not just satisfy, but delight our clientèle!
Our History:
Our parent company began providing consulting and management services in 1978. By the early 1990's, we began receiving requests to apply the same personalized service with reasonable & affordable pricing to Internet services.

After outsourcing to other service providers and encountering continued disappointment, we invested in the necessary equipment and tools to bring the service in-house in 1996. Since then, we have steadily built on our client base, mostly through word-of-mouth and referral.
Our First Server Room
We started off as a tiny operation set up in a spare room at INTEX Management Company's office in Plano, Texas. The IT department provided a Pentium Pro 200Mhz server running Windows NT 4.0 and we began serving websites and email from our 128Kbps ISDN line. After that we moved to a 768Kbps symmetric DSL and later a 1.54Mbps T1.

We're On Our Own Now
On October 1, 2001 VIRTBIZ went live from our new headquarters on Gold Street in Garland, Texas. By this time we had grown to 6 servers. We replaced the old P-Pro server with a shiny new HP NetServer LH3, complete with 5 (count 'em!) 9GB SCSI drives.
We also introduced our first Linux-based system into the network; a Cobalt RaQ2.
Two years later, VIRTBIZ became the sole focus of our parent company. Our 1.54Mbps T1 line began to groan under the load, and we needed to look for a different solution to our bandwidth problem.

A Real Datacenter
The history of VIRTBIZ took an important step in 2003 when we leased space in an actual datacenter.  We moved 1 rack of servers out to 1902 Central Drive in Bedford, Texas and connected the office to the datacenter via private T1.
By mid-2005 we had fully occupied 2 racks in that facility and were consuming up to 12Mbps of traffic during peak usage.   Unfortunately, the provider informed us that they would be closing the doors and winding down operations.  We had less than 3 weeks to locate replacement facilities and make a full migration. This was a nightmare.
Making Another Move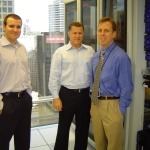 After discussions with the failed provider, VIRTBIZ contacted other tenants who would soon find themselves without a home for their servers.  Working with friends in the industry, we were able to secure service for our own equipment as well as the other customers through Aspen Communications.  This was to be the start of an enduring friendship between VIRTBIZ and the management team at Telecommunications Properties, Inc. 
VIRTBIZ officially entered the colocation business when we signed a lease for cage space in Downtown Dallas' tallest datacenter at 901 Main Street.  We quickly installed 6 racks and ferried servers and equipment to our new home over the course of the next 2 weeks by car.
Shortly after moving in, we began to take in new colocation customers as well as set up dedicated servers in our space.  We quickly spilled over into 5 more racks and 3 shelves worth of tower servers.   We looked for additional space and found it with ColoMart at 2323 Bryan Street in Dallas.  At that point however, our offices were in Garland and we had two datacenters in Dallas. We really wanted to somehow combine operations to make things more efficient for us and our customers.
Building A Home Of Our Own
In 2007, two very pivotal things occurred in the history of VIRTBIZ.  Firstly, the principals of ColoMart made a decision to exit the datacenter business.  Then in July of 2007, VIRTBIZ closed on a property that would become its new headquarters and datacenter at 2805 Canton Street in Dallas. 
We spent the next several weeks and months renovating our newly-acquired 10,000 square-foot mid-century building and making it ready for customers to occupy the data center.   The first customers moved in from ColoMart in November of 2007.  By mid-2008 we moved our last production servers out of our 901 Main Street.
Our Facilities:

Our business office and network operations center are located in our flagship facility in Deep Ellum near downtown Dallas, Texas. It's from here that we monitor and manage all aspects of our network and operations. This is also our primary datacenter.
We have access to connection points at 901 Main Street, 2323 Bryan Street, and Dallas Infomart carrier hotels. We also have abundant dark-fiber available for future expansion. Accordingly, we provide our customers with access to one of the largest, most geographically-diverse metro fiber footprints in Dallas. In addition, our exclusive wireless fail-over system utilizes the same technology that major telephone carriers use. This is a VIRTBIZ exclusive not available from any other Dallas-area provider.
In addition, we provide services at two remote Points of Presence (POPs); our old home DTX901 and our Tennessee location MEM1.
If you'd like to know more about VIRTBIZ facilities, we'd love to tell you!
Through it all, never in the history of VIRTBIZ have we forgotten that what we do is all about the customer. Tell us how we can earn your business!